1961-1981 Presidential Inaugural Plates
From a Series of Special Event, Limited-Use Plates

---
1961
Pres. John F. Kennedy
Vice Pres. Lyndon B. Johnson
Inauguration Day: January 20, 1961
Flat aluminum, 6" x 12"
The practice of including images of the president and vice president on inaugural plates was not continued in 1961.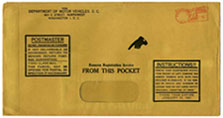 Instead, a simple but patriotic design was chosen for the first inaugural plates to be completely flat and feature a reflective background. Whereas 1957 inaugural plates could be displayed on vehicles for slightly less than three weeks, the initial regulation approved by the Board of Commissioners relating to 1961 plates, dated Nov. 10, 1960, specifies that they were to be valid for use from Nov. 15, 1960, through Jan. 31, 1961. In response to a request made by the inaugural committee, however, a Jan. 1961 vote of the Board extended the period of validity to February 28, so that 1961 inaugural plates could be used for 3.5 months, far longer than earlier issues.
The initial order for 1961 inaugural plates calls for 3,100 pairs to be made, numbered 1 through 3000 and 4500 through 4599, but ultimately 10,000 were produced. Many examples with numbers outside of the original two ranges are known to exist, proof that subsequent orders (which were provided for in the Commissioners regulations) were placed by the inaugural committee.
The white background of 1961 plates often appears pale yellow due to the relatively heavy coating of clear lacquer applied to protect the reflective material. Collectors that wish to remedy this condition should place the plate in direct sunlight until the desired shade of brighter white appears. Early reflective plates (such as this issue) are thought to have been engineered with this naturally-occurring color change in mind, although most (if not all) of these limited-use plates were never exposed to enough direct sunlight for the change to occur.
| | |
| --- | --- |
| Like all D.C. plates of the era, 1961 Inaugural plates were produced at Lorton Correctional Complex. This unusual souvenir plate was printed with names of individuals at that facility that participated in their production. | |
---
1965
Pres. Lyndon B. Johnson
Vice Pres. Hubert H. Humphrey
Inauguration Day: January 20, 1965
Flat aluminum , 6" x 12"
Inaugural plates made for 1965 are flat and reflective, like the previous issue. Their period of validity began on Nov. 15, 1964, and ended on Feb. 28, 1965. According to an October 20, 1964, order approved by the Board of Commissioners entitled "1965 Inaugural License Tags," 10,023 pairs were to have been made, although specified in the same sentence are only 10,022 registration combinations, those being numbers 1 through 9999, as well as single-letter plates "A to Z, omitting I, Q, and V." The design, said to have been approved by co-chairmen of the Pre-inaugural Committee, is the only inaugural plate graphic that includes an image of the D.C. flag.
The text at the bottom of this 1965 inaugural plate order form reads "A limited number of Official INAUGURAL PLATES have been made available for your purchase. These plates can be used on your car up to March 1, 1965. The plates may be obtained by check (or money order) at $10.00 a set."

The order form portion of this document is thought to have appeared below the text, and on this copy has been torn away, presumably having been used to order a set of plates.
---
1969
Pres. Richard M. Nixon (first term)
Vice Pres. Spiro T. Agnew
Inauguration Day: January 20, 1969
Embossed steel, 6" x 12"
Although the 1969 issue features some design similarities to the previous issue, the use of embossing and taller characters results in a substantially different appearance. The registration number is embossed and there is a debossed rim; flat inaugural plates would not return for another 35+ years. A limited number of personalized ("vanity") plates were made for VIPs and a special series of plates with a B prefix to the number were made for inaugural committee staff. Like the past two issues, nearly 10,000 sets are thought to have been made.
---
1973
Pres. Richard M. Nixon (second term)
Vice Pres. Gerald R. Ford
Inauguration Day: January 20, 1973
Embossed steel, 6" x 12"
Politically it is rather ironic that the design of special-event plates issued to commemorate the second inauguration of President Nixon is identical to that of the 1961 plate, for the earlier version was issued following a presidential election that then Vice President Nixon lost to Sen. John F. Kennedy. The embossed characters of the 1973 variety give the plate an overall different appearance than the 1961 version, but all other design elements are essentially the same.
This was the first inaugural plate issue upon which members of the general public were permitted to obtain personalized registrations. In an apparent effort to promote this change several thousand plates bearing the word SKINS, a reference to the Washington Redskins NFL team, were made. So many were made, in fact, that they are still plentiful today, with a supply still far in excess of the demand. Six days before Inauguration Day the Redskins lost to the Miami Dolphins in Super Bowl VII, ending the Dolphins historic 14-0-0 season.
As was done with the previous issue, a special series of plates with a letter prefix, this time S, was made for inaugural committee staff in 1973. Also, plates in a another special series, numbered WH-1 through WH-99, were issued to members of Nixon's White House staff.
Approximately 10,000 pairs of 1973 presidential inaugural plates are believed to have been made.
---
1977
Pres. Jimmy Carter
Vice Pres. Walter F. Mondale
Inauguration Day: January 20, 1977
Embossed aluminum, 6" x 12"
An unusual, abstract flag design was chosen for plates made to commemorate the inauguration of Pres. Jimmy Carter, and the inaugural committee is believed to have ordered 20,000 sets of them.
---
1981
Pres. Ronald W. Reagan (first term)
Vice Pres. George H.W. Bush
Inauguration Day: January 20, 1981
Embossed aluminum, 6" x 12"
The 1981 inaugural plate features a classic appearance and is the last to include a reference to Washington, D.C. The bold, patriotic design, with "U.S.A." in the lower left corner, was created by John D. Garst Jr., of Washington. It proudly and succinctly proclaims its city of origin and purpose whereas later plates are designed more for up-close viewing and to appeal to souvenir seekers rather than for use on a motor vehicle.
Sequentially-numbered 1981 inaugural plates are numbered 1 through 999, then A-001 through A-999, B-001 through B-999, etc. Any plate with an all-number registration above 999 (1000, 1234, and 6789, for example), is considered a personalized plate.
In addition to regular numbered and personalized plates made with full-size embossed characters, a small number of non-traditional personalized plates were made for the first Reagan inauguration. Some feature short embossed characters (such as would be used in the manufacture of motorcycle plates) that are small enough to allow for seven figures whereas the limit on plates made with full-size dies was five. About fifty pairs are thought to have been made with the small dies. Made in an even smaller quantity, about 30 pairs, were plates with silk-screen printed characters that allowed for even more to appear to the right of the American flag graphic.
In total, about 36,000 sets of presidential inaugural plates were made for 1981.
---
Most of the information and images on this page were provided by Charlie Gauthier, an expert on the subject of Presidential Inaugural license plate history. Mr. Gauthier has published a number of articles on the subject and has, over a period of decades, carefully built and maintained the most complete collection of inaugural plates and ephemera. As a District of Columbia native who now resides in Northern Virginia, he has worked directly with a number of past inaugural committees on their commemorative license plate programs. DCplates.com is sincerely grateful for his willingness to share his collection and knowledge through this page. For more information about these plates or to provide more information about or images of them, please send an e-mail to Mr. Gauthier at Charlie@DCplates.com.
---
This page last updated on December 31, 2017

copyright 2006-2018 Eastern Seaboard Press

Information and images on this Web site may not be copied or reproduced

in any manner without consent of the owner.

For information, send an e-mail to

admin@DCplates.net