Annual Special Hauling Permit
Although they resemble vehicle license plates, these historically colorful permits are issued to show compliance with a statute that governs the use of non-D.C.-registered oversize vehicles within the District, not the registration of a motor vehicle. When they were first issued is unknown, although an article published in the April 1987 edition of the

ALPCA

Newsletter indicates that they were introduced in 1971. That this is also the year in which the annual special hauling permit fee was last changed suggests that permits in the form pictured below may have been introduced at that time.

< Annual Special Permits are always displayed on the front of non-D.C.-registered commercial vehicles in conjunction with a license plate of the state in which the vehicle is registered (unless the state does not require a front plate, of course). Shown here on a Maryland-based refuse truck, a 2011 Hauling Permit is used not only with a standard Maryland plate but also with a permit issued by a Montgomery County agency.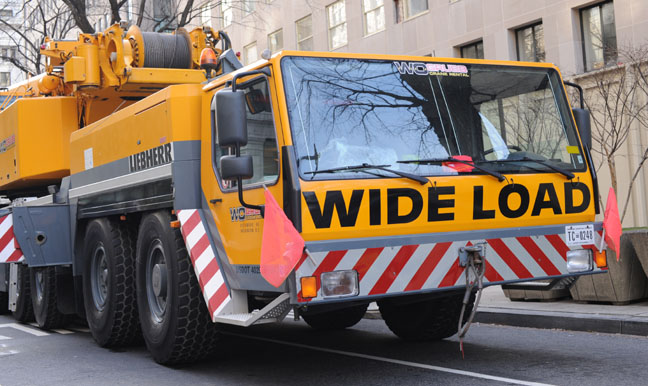 This enormous vehicle, which likely is registered in Virginia, had a 2012-13 D.C. Truck Crane permit affixed to its front bumper when it was photographed parked near K Street, NW.

Period of use unknown

Period of use unknown

Period of use unknown

---

Period of use unknown

c.1977

July 1980-June 1981

---




July 1981-June 1982

July 1982-June 1983

July 1983-June 1984

---

July 1984-June 1985

July 1986-June 1987

July 1987-June 1988

---

July 1988-June 1989

July 1990-June 1991

July 1991-June 1992
Because Annual Special Hauling Permits are not used for registration purposes they have never been the only plate displayed on a vehicle. Rather, they are supplemental permits displayed to show that the owner of an over-wide and/or overweight vehicle registered in one of the states (most often Maryland or Virginia) has paid a permit fee and that the vehicle has been approved for use in the District. Annual special permits have always issued been singly and are displayed on the front of the vehicle. Whereas these metal permits are issued for regular users, paper permits are issued for occasional and one-time users.
An annual special permit must be displayed on trucks with a gross vehicle weight in excess of 65,000 pounds being operated in the District of Columbia that is not registered here. The 65 prefix or suffix on most permits of this type is a reference to the 65,000 lbs. GVW threshhold, and these are most often seen on construction vehicles such as dump trucks and concrete trucks. For example, 1986 permit number 65-0062 pictured was used on a 1973 Mack three-axle dump truck that was registered in Maryland, and the fee paid for it was $917. This annual fee, introduced in mid-1970, remains unchanged today. 65-Series plates expire annually at the end of June, and based upon the four-digit serial numbers of the plates shown it appears that no more than six hundred 65-series permits were likely issued annually, at least through the early 1990s.
Also seen on occasion are Truck Crane (TC series) and Tractor Trailer (TT series) Annual Special Hauling Permits.
About the plates themselves we know little more than what we can conclude from observing known examples. Earlier plates are unreflective and were emboosed with dies used to produce D.C. license plates issued from 1965 through the late 1990s, suggesting that they were issued sometime after 1965. More recent permits are flat and covered with reflective sheeting. All are 6"x12" and aluminum. Although as of the mid-1980s these permits were issued by the Building and Land Administration of the D.C. Dept. of Consumer and Regulatory Affairs, today their distribution is handled by the D.C. Dept. of Transportation ("D-DOT").
Characteristics of permits of which an example is not pictured above are as follows:
| | | | |
| --- | --- | --- | --- |
| Year | Dated | Colors | Period of Use |
| 1985 | "85" | yellow on red | July 1985-June 1986 |
| 1989 | "89" | unknown | July 1989-June 1990 |
| 1992 | "92" | unknown | July 1992-June 1993 |
| 1993 | "93" | red on yellow | July 1993-June 1994 |
| 1994 | "94" | red on white | July 1994-June 1995 |
Nothing is known about 1995 through 2006 Annual Special Permits, although the white-on-blue permit no. TC-0141 pictured above likely represents one of the later years in this period.

---
This concrete pump truck, based in Manassas, Va., was on a job site in Fauquier County when photographed in June 2015. Based upon its TC-series Annual Special Permit it is apparent that for D.C. permitting purposes this type of vehicle is considered a truck crane.

---
Annual Special Hauling Permits Since 2007
Characteristics of annual special permits of recent years are as follows:
Period of Use

Year

Colors

65 Series

TC and TT Series

2007

black on orange

July 2007-June 2008

May 2007-April 2008

2008

black on blue

July 2008-June 2009

May 2008-April 2009

2009

white on green

July 2009-June 2010

May 2009-April 2010

2010

black on pink

July 2010-June 2011

May 2010-April 2011

2011

white on black

July 2011-June 2012

May 2011-April 2012

2012

black on white

July 2012-June 2013

May 2012-April 2013

2013

black on orange

July 2013-June 2014

May 2013-April 2014

2014

black on yellow-orange

July 2014-June 2015

May 2014-April 2015

2015

white on blue

July 2015-June 2016

May 2015-April 2016

2016

black on yellow

July 2016-June 2017

May 2016-April 2017
As for their numbering, based upon observed examples, the 2007 and 2008 plates appear to have been numbered in a continuous sequence that likely began years earlier, in the numbering fashion of dealer plates issued since Oct. 2004. For 2009, 2010, and 2011, however, numbers appear to have begun at 0000-65 or 0001-65 annually, as they did through at least 1991. Lowest and highest numbers observed on permits of each year are as follows:
Observed Numbers

Year

Lowest

Highest

2007

6079-65

7617-65

2008

9490-65

9675-65

2009

0821-65

2006-65

2010

2658-65

2658-65

2011

0500-65

1160-65
| | |
| --- | --- |
| | |
| July 2008-June 2009 | July 2009-June 2010 |
| | |
| | |
| July 2010-June 2011 | July 2011-June 2012 |
| | |
| | |
| May 2015-April 2016 Truck Crane | May 2015-April 2016 Truck Tractor |
---
| | | |
| --- | --- | --- |
| | | |
| A 2007 Annual Special Hauling Permit is displayed on this Maryland-based dump truck that has been involved in a collision that ruptured its right fuel tank. | | Construction sites within Washington are the most likely places to spot Annual Special Hauling Permits. Vehicles with these permits always are registered in one of the states, usually Maryland or Virginia. |
---
This page last updated on December 31, 2017

copyright 2006-2018 Eastern Seaboard Press

Information and images on this Web site may not be copied or reproduced

in any manner without consent of the owner.

For information, send an e-mail to

admin@DCplates.net