U.S. Government License Plates
To reach a separate page devoted to diplomatic plates issued by the federal government since 1984, click here.
DCplates.net typically constructs new pages offline, posting them only when they are complete or nearly so. We've made an exception in this case because of the keen interest in this subject and because we expect it to take an unusually long time to prepare the page. We hope that watching its evolution will prompt those with relevant information and images to contribute to the effort. Click here to learn how.
How this page will evolve is unknown. We have begun by presenting data by era, but over time we expect to shift the presentation, at least with respect to the early, non-uniform-design plates, to categorization by agency.
Introduction and Historical Summary
Upon this page we will present the history of distinctive license plates displayed on vehicles under control of branches and agencies of the federal government, including the military. We will address all federally-issued plates as well as D.C. plates issued for use on federally-owned vehicles, a scope that is incredibly broad. Although today's federal government plates have a uniform appearance, there are a large number of agencies and branches for which distinctive plates are issued. Prior to the adoption of a uniform plate design in the 1940s, although there were fewer agencies than today there were still enough of them that the number of plate types and styles is impossible to quantify, or even to estimate. Unfortunately there is no known authoritative documentation about the history of license plates displayed on U.S. government-owned vehicles, so most of what is known and documented on this page is based upon surviving examples and plates shown in photographs.
It is fairly evident that the earliest plates displayed on vehicles operated by federal government agencies were procured and issued independently of other agencies or a central federal vehicle registration office. At some point, probably in the early 1940s, a uniform design is thought to have been adopted, in some cases with agencies indicated by letter prefixes. This basic system is still used today. Separate from these federal plates, however, is a relatively short-lived series of plates issued by the D.C. government for federally-owned vehicles. Exactly how these vehicles differed (in their use and oversight) from vehicles upon which distinctive U.S. government plates were displayed is unknown.
District of Columbia Plates for Federal Government Vehicles
When letter prefixes began to be used on District of Columbia license plates in 1927 the letter A was reserved for plates operated by the District and federal governments. (An example is shown here.) No evidence has been found to suggest that distinctively-marked D.C. plates were provided for government-owned vehicles prior to 1927. The types (D.C. and U.S. Government) had been separated by 1936, with the type name clearly embossed, a change that probably occurred in 1935 when the system of using letter prefixes to differentiate types was discarded.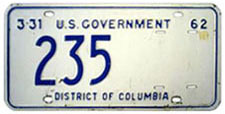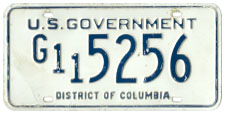 Except for the two earliest examples, provision has been made on each of these plates for the identification of a particular federal agency. On the white-on-dark-blue plate the small letter S suffix, displayed on a tab, indicates State Dept. use. Based upon the year tab slots to the right of U.S. GOVERNMENT, this plate, with an unusual embossed red border, is believed to date from the mid- to late 1950s.
Some plates included two-letter agency codes, hence the two tab slots on some of these plates. Based upon the spacing of plate number 9089 and the lack of agency tab slots, perhaps the agency was to have been indicated on a decal placed to the right of the number. The G of the prefix on plate no. 5256 indicates assignment by the General Services Administration to its Interagency Motor Pool System, and the 11 indicates use on an intermediate or subcompact passenger car.
Federal Government Plates Procured and Issued Independently By Agencies
Agency-specific plates appear to have been issued almost as early as the first state-issued plates, which is to say that some porcelain-enamel plates made for government agencies are known. Vehicle registration is thought to have been addressed individually by the various federal agencies until during or just before World War II. Perhaps the best known non-uniform federal government plates are those in a series used by the Civilian Conservation Corps.
Uniform Federal Government Plates
With just a few exceptions, including multi-year baseplates being introduced in the early 2010s, uniform license plates issued and used by the United States government have been undated and issued in relatively small quantities, making them difficult for today's hobbyists to date and collect. Plates that include DISTRICT OF COLUMBIA are considered to be D.C. plates, as opposed to federal plates to which the city name has been added, so the bases pictured above are not repeated below.
Federal Shield Base
This base is thought to be the first uniform federal government license plate. It's exact period of use, and whether it was used by all agencies then with motor vehicles, is unknown, although it certainly was in use by the mid-1940s.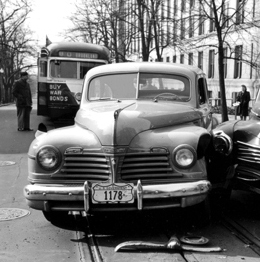 Tri-Color Base
This base continued the tri-color format of the federal shield base but in a more traditional format. Validation tabs were used for at least one year, as shown on plate no. 236, making it the earliest known uniform federal government plate with an expiration designation or any indication of its period of use.
Blue-on-White Base
The longest-used federal government plate is the undated blue-on-white base, which was issued from the 1960s through fall 2001, with design variations made during that period such as the introduction of a reflective background. It was on this base that we first observed vehicle type codes used on the largest series of plates, those of the General Services Administration, which feature a G prefix followed by a two-number code to indicate the vehicle type.
<<to be continued>>
UNICOR-Made Plates
Completely flat plates made by the federal prison system's industries division, UNICOR, were introduced soon after their production began in September 2001. There have been four distinct variations of these plates, all of which have been made with DLP (Digital License Plate) technology.
1) plain white background
2) blue U.S. flag graphic background
3) red-and-blue flag background, undated
4) red-and-blue flag background, dated
<<to be continued>>
---
This page last updated on December 31, 2015

copyright 2006-2016 Eastern Seaboard Press

Information and images on this Web site may not be copied or reproduced

in any manner without consent of the owner.

For information, send an e-mail to

admin@DCplates.net