Optional Passenger Car License Plates
For some drivers the regular license plate, the one that most everyone else has, just isn't distinctive enough. Optional design license plates were first offered by three states (Georgia, Maryland, and Virginia) to commemorate the U.S. bicentennial. The practice of offering an option to the general-issue design didn't catch on at that time, but rather got rolling in the mid-1980s.
The number of optional plates offered in the U.S. has exploded during the past twenty years. Alternative, extra-cost designs are now available in all fifty states and Washington, D.C., although clearly some jurisdictions have embraced the concept more than others. Florida, New York, and Virginia have among the largest specialty plate programs, whereas in states like North Dakota, Rhode Island, and Wyoming the offerings are limited to just a few designs. Sales of many specialty plates benefit colleges and universities, not-for-profit organizations, charitable foundations, and other causes.
Optional plates have been issued in the District of Columbia since 1991, albeit in small quantities, for various purposes.
---
City Bicentennial Commemorative License Plate
This design was introduced in 1991 to commemorate the 200th anniversary of the founding of Washington, D.C., a historical event discussed briefly on our 2000 baseplate page. The exact months during which plates of this design were first and last offered for sale are unknown, but we believe that their period of availability was approximately 10 years. Specifically, their introduction probably occurred in the autumn of 1991, and sales were likely suspended sometime during 2001, possibly in the spring. Number 200-OYV was seen in use in late March 2001, and the highest number observed is 200-OYZ. Although City Bicentennial plates may continue to be used if properly validated, their no longer being produced is thought to be a result, at least in part, of the shift from embossed to flat plates that occurred in the summer of 2001. The initial production run appears to have been 10,000 pairs (as discussed below), and by the time the supply was depleted demand was probably lacking such that a decision was made to not produce additional examples.
In addition to general-issue passenger plates, the unique numbering configuration of which is discussed below, reserved-number, personalized and Disabled American Veteran plates are also known to have been made on this background. No other types are known. As is evident in one of the images below, the layout of personalized plates differs slightly from that of passenger plates in that the logo centered on regular plates is offset to the left on vanities so as to not interrupt the appearance of plates comprised of more than three letters.
Like general-issue plates, the expiration of these special, colorful graphic plates is staggered based upon the date of issuance. City Bicentennial plates were issued in pairs and cost $25 in addition to the regular registration fee upon initial purchase. There has never been a renewal surcharge.
Click on each of these images of rare non-passenger City Bicentennial plates in use for close-up images of the plates.
The most unusual characteristic of D.C. City Bicentennial plates is a unique numbering system. It is not unusual, of course, for plates to be marked with three numbers followed by three letters. What's different about this issue is that the three digits on every single one are 200, to reinforce the theme of celebrating the city's 200th year. Letters progress sequentially from right to left. For example, plate number 200-DDS pictured above was issued immediately after 200-DDR, and was followed by 200-DDT, 200-DDU, 200-DDV, etc. The only exceptions are the rare reserved-number plates that were specially-ordered when, for at least one registration year, individuals to whom these numbers were assigned chose to have their plates made on the optional background. Whether this option was offered for registration years other than 1991 (exp. 3-31-92) is unknown.
We are documenting characteristics of as many of these plates as possible in order to estimate how many sequentially-numbered pairs were made and issued based upon assumptions about which letters were used in each of the letter positions (the fourth, fifth, and sixth registration number character positions from the left). Although we have not observed enough examples to state with certainty that this is the case, we believe that letters A through O appear in the fourth position, and A through Z inclusive appear in the fifth and sixth. If this is true and if all available registration numbers from 200-AAA through 200-OZZ were issued, there would have been 10,140 pairs. However, certain offensive combinations obviously would not have been issued, and perhaps a few were withheld for other reasons, so we believe it is safe to assume that about 10,000 sets of this optional plate were issued over its ten-year period of availability, not counting the relatively few low-number, personalized, and miscellaneous other types made on the City Bicentennial background.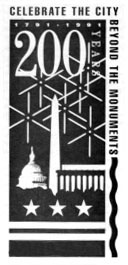 We have also tried to estimate the rate of issuance of these plates, based upon the natural month and year stickers of observed examples. However, the quantity of plates documented for this purpose has heretofore been insufficient to make any estimates or draw any conclusions, and some that we have seen lead to more questions than answers, which may be because the natural month and year of expiration may not always be an accurate indicator of the issuance month. If a City Bicentennial plate was purchased in conjunction with a new registration, the month and year of its first expiration may indeed a direct indicator of the purchase month, although the availability of optional two-year registrations beginning in 1992 complicates even this seemingly simple dating method. Complicating the matter, however, is our assumption that if a motorist elected to replace his or her valid general-issue plates with the optional City Bicentennial design, the expiration date of the existing registration likely was applied to the new plates. In these cases, the issuance date is unrelated to and indeterminable based solely upon the first expiration month. Rather than submit to the temptation to present our rough estimates as to during which years certain letter series may have been introduced based upon the few examples observed for this purpose, we will leave the matter open and express hope that we will one day have more conclusive evidence on the subject.
Although it would have been rather late in the bicentennial year, we believe it to be likely that City Bicentennial plates were produced in late August or early September 1991 and made available to the public late in September or during October. One early plate of this series, number 200-ABP pictured below, has an October 1992 expiration, and if it was issued in conjunction with a new registration, that event would have occurred in October 1991. Plate 200-ACR, the earliest plate in our collection, was made with graphic sheeting that includes a BCA3 security mark, which (as explained here) indicates that the sheeting was produced in August 1991. We assume that the BCA3 lot of sheeting was the first used for this background design.
Regardless of nagging questions about numbering, issuance rates, and other details, this plate has a design that many find pleasing. A close-up of the city bicentennial logo appears above, although on the version of the logo used on plates the fireworks are red. When used in contexts other than license plates, WASHINGTON, D.C. is printed in the wide bar across the bottom. This logo and the Celebrate the City... Beyond the Monuments theme were used in a variety of promotional contexts.
But Was It Really A Celebration?
As easy as it is for us to assume that D.C.'s 200th anniversary was widely recognized and celebrated, if a Dec. 1991 Chicago Tribune article entitled "Capital's Bicentennial Celebration Is Anything But" is to be believed, these license plates, rarely seen even during their years of availability, may have been the most high-profile commemoration of this noteworthy event. Completely ignoring the plates that were presumably on D.C. roads at the time, the article states that "Other than a special postage stamp, a visitor would be hard-pressed to find much evidence of any bicentennial observances in the places around town where tourists customarily gather." The context of this sentence is perfect for the mention of the City Bicentennial plates, yet they are nowhere to be found.
"Only a few dedicated scholars and a handful of civic boosters" were paying attention to the city's bicentennial in 1991 according to the article. "The D.C. Bicentennial Commission, established by former Mayor Marion Barry, is an almost invisible agency. Phone calls about its mission go unreturned, and visitors to its office find the doors locked." Officials were reportedly planning a bigger celebration in 2000 to mark the city's 200th anniversary as the official seat of the federal government. Although we're uncertain if those plans ever materialized, we know that special license plates were not a part of them.
| | | |
| --- | --- | --- |
| | | Upon its introduction in 1991, the design of the City Bicentennial plate was recognized as being unlike anything previously issued in Washington, D.C., and indeed its numbering system has never been used anywhere, ever. We're still not sure if every letter was used in the serial (i.e. letter) positions, but even if they were, this photo of a Ford Mustang taken in late 1991 or 1992 shows no later than the 42nd plate issued. Its October expiration suggests that this optional base was first offered late in the summer or fall of 1991, but the exact introduction date has not yet been determined. |
| | | |
| --- | --- | --- |
| | Although samples of passenger (left) and personalized City Bicentennial plates were made, they are not believed to have been available to plate collectors or otherwise widely distributed. | |
By early 2014, when this photo of a late-issue City Bicentennial plate was photographed on a Toyota parked on Cathedral Ave. NW, it had been in use for more than 10 years since its last plate stickers expired. Examples of this base are increasingly scarce but may still be used if the corresponding registration is properly renewed, now evidenced by a sticker placed on the windshield.
---
Anacostia River Commemorative License Plate
The Anacostia River Commemorative License Plate was introduced in mid-2010, probably in May or early June. Mention of it was included on the DMV's Web site by June 1, and the first photograph of a plate in use is no. 1011 observed on June 19. The plate is part of a broader campaign to reduce trash, especially non-recyclable plastic bags commonly provided by retail establishments, that wind up in the Anacostia River and other waterways of the District. The plates cost $25 initially and $20 upon renewal every two years, in addition to the regular registration fee. After costs of producing the plates are retained by the DMV, excess surcharge proceeds support a new fund established to support initiatives of the 2009 law under which the plates were created.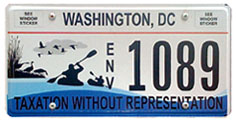 The Anacostia River plate is authorized in a measure approved by the Council during 2009, the Anacostia River Clean Up and Protection Act of 2009, "to protect the aquatic and environmental assets of the District of Columbia; to ban the use of disposable non-recyclable plastic carryout bags; to establish a fee on disposable carryout bags provided by grocery stores, drug stores, liquor stores, restaurants, and food vendors; to give the Office of Tax and Revenue the authority to implement rules and procedures to collect the fee; to provide for the issuance of Anacostia River Commemorative License Plates; to establish a non-lapsing fund known as the Anacostia River Cleanup and Protection Fund in which the fees, the net proceeds from the issuance of Anacostia River Commemorative License Plates, and the net proceeds from a voluntary income tax check-off are deposited; to authorize use of the fees; and to amend Title 47 of the District of Columbia Official Code and the District of Columbia Revenue Act of 1937 to make conforming amendments, including the creation of a voluntary income tax check-off."
Effective January 1, 2010, consumers that utilize non-recyclable plastic bags in conjunction with their patronage of retail stores within the District pay a five-cent fee for each bag that they use. Of this fee, a portion (usually two cents) is remitted by the retailer to the Anacostia River Cleanup and Protection Fund, which also derives revenue from license plate sales and contributions made through a voluntary check-off box on the city's income tax return. According to the regulation, assets accumulated in the fund "shall be used for the following projects in the following order of priority:
A public education campaign to educate residents, businesses, and tourists about the impact of trash on the District's environmental health;

Providing reusable carryout bags to District residents, with priority distribution to seniors and low-income residents;

Purchasing and installing equipment, such as storm drain screens and trash traps, designed to minimize trash pollution that enters waterways through storm drains, with priority given to storm drains surrounding the significantly impaired tributaries identified by the District Department of the Environment;

Creating youth-oriented water resource and water pollution educational campaigns for students and the District public and charter schools;

Monitoring and recording pollution indices;

Preserving or enhancing water quality and fishery or wildlife habitat;

Promoting conservation programs, including programs for wildlife and endangered species;

Purchasing and installing equipment designed to minimize trash pollution, including recycling containers and covered trash receptacles;

Restoring and enhancing wetlands and green infrastructure to protect the health of watershed and restore the aquatic and land resources of its watershed;

Funding community cleanup efforts and other activities that reduce trash, such as increased litter collection;

Funding a circuit rider program with neighboring jurisdictions to focus river and tributary clean-up efforts upstream;

Supporting vocational and job training experiences in environmental and sustainable professions that enhance the health of the watershed;

Maintaining a public website that educates District residents on the progress of clean-up efforts; and

Paying for the administration of this program."
| | | |
| --- | --- | --- |
| | By late August 2010, within a few months of their introduction, two distinct design variations had already been observed on Anacostia River Commemorative plates. The design differences are many, but probably not noticeable unless seen side by side, for the overall composition is unchanged. It's easy to assume that these are the only two varieties issued, but there certainly could be more! Numbers 1011 and 1089 have the same "three shore birds" image, whereas nos. 2001 and 2072 have the "one-bird" graphic. Perhaps the change was made at 2000 or 2001. | |
| Detail of graphic on plate no. 1089 | | Detail of graphic on plate no. 2001 |
| | | |
Issuance and Numbering
As of mid-October 2010, what little we know about the issuance and numbering of Anacostia River plates comes from plate collectors that have reported their experiences about purchasing and observing them. Regarding numbering, in mid-September one correspondent tried to determine the lowest number issued using an online application that lets D.C. vehicle owners enter their registration number to determine whether they have outstanding parking violations. Search results indicate either that violations exist, that there is a balance of $0.00, or that a registration number is not found (i.e. is unissued). A search of ENV-prefix numbers found that the lowest number then in use was ENV 1002, which suggests that, unlike registration numbers used on organizational plates, leading zeros are not used on Anacostia River plates.
Some (presumably relatively small) quantity of Anacostia River plates is thought to have been provided to each DMV branch office, but their availability is not publicized, even within the branches. About his purchase experience, the individual to whom no. 2001 was assigned in late August writes "the clerk tried his best to dissuade me from getting these plates, warning me several times that they cost extra. There was no display or listing of available plate types; he was quite surprised, in fact, when I asked for them, and he asked me how I knew that they existed. He did say that 2001 was the first number issued" at the DMV branch at 95 M St., SW. "Other customers took note of my 'fancy' plates and demanded their own. My purchase resulted in the issuance of 2002 and 2003 to the customers next to and behind me."
---
War of 1812 Commemorative License Plate
An optional license plate with a design that will commemorate the effect of the War of 1812 on the District of Columbia is in the planning stages as this is being written in late June 2010. Through its Web site and presumably other mediums, the Washington, D.C. War of 1812 Bicentennial Commission has solicited plate design ideas from the public, and the deadline for submitting these proposals in a prescribed format is June 30, 2010. The plate layout will be similar to organizational plates, with a graphic feature to the left of the registration number, which itself will begin with a vertical three-letter prefix. A slogan will appear across the bottom. According to the Commission's guidelines, "Entrants are encouraged to depict at least one or more of the following: the Star-Spangled Banner Flag, U.S. Capitol, White House, President James Madison, and First Lady Dolley Madison."
The design contest will result in first-, second-, and third-place winners being chosen. The first-place winner will have his or her design used on the War of 1812 Commemorative License Plate and will be presented with a $200 prize. All three winning designs will be featured on the Commission's Web site.
Based upon information about the contest provided on the site, all entries will first be reviewed by members of the Commission, who will choose a group of submissions that "will be evaluated by a prestigious panel of judges, including members of the Washington, D.C. War of 1812 Bicentennial Commission, artists, and historians." This panel will apparently choose a relatively small number of designs, from which members of the public will be asked to vote for their favorites, resulting in three finalist designs ranked in first, second, and third place based upon the number of votes each receives.
Contest guidelines dated May 5, 2010, indicate that the registration number and other identifying features will be blue or black on a white background, and that the legend at the bottom of the plate may be comprised of up to 40 characters on one or two lines. Which three letters will identify the type and precede the serial characters are not specified.
Early March 2012 update: We have found no further references to this plate.
---
Optional General-Issue Plate:
www.washingtondc.gov

As discussed in more detail on the 2000 baseplate page, this option takes the form of a general-issue plate but with the somewhat controversial TAXATION WITHOUT REPRESENTATION legend replaced with the domain name for the city government's Web site, www.washingtondc.gov. There is no extra charge for these plates. Click on the image to the right and visit our 2000 baseplate page for close-up images of these plates.
The first Web site URL optional plates were made in the BB series and issued in January 2001. Numbering presumably began at BB-0000 and the highest observed number is BB-1938. Why they were not issued above BB-2000 is unknown, but at that point the BJ series was introduced, making BB-series plates among the more scarce modern D.C. passenger car plates.
| | |
| --- | --- |
| Having and sharing images such this are important parts of the process of documenting the history of items not intended to be preserved such as license plates. The second BB-series plate was photographed on Western Ave. NW in Friendship Heights. | |
---
Military Service-Related
Aside from organizational plates available to members of the Disabled American Veterans and Veterans of Foreign Wars, there are optional plates for veterans that are not a member of either organization, as well as for recipients of the Purple Heart.
D.C. Veteran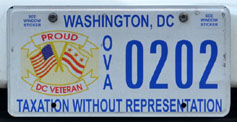 Special license plates for military veterans, the availability of which is thought to have been added to the DMV's Web site in early 2012, a believed to have become available in late 2011. Although issued by the DMV, application for the plates must be made through the city government's Office of Veterans Affairs, hence the vertical OVA prefix to the four-digit registration number (in the format of organizational plates). To the left of the number appear U.S. and D.C. flags, with PROUD DC VETERAN printed in red. The city name and standard Taxation slogan appear as they do on general-issue plates. D.C. Veteran plates cost $52 initially in addition to the standard registration fee, and there is also a $26 annual surcharge identified as a Display Fee.
When plates of this type were authorized is unknown, but it likely was accomplished with the Veterans License Plates Establishment Act of 2009 (bill no. 18-235), the original draft of which is referenced in a June 2009 memo from the city government's chief financial officer to then Council chairman Vincent Gray. The purpose of the memo is to indicate to the chairman the effect the act's approval would have on the city's fiscal year 2010 budget. (Fiscal year began Oct. 1, 2009 and ended Sept. 30, 2010.) The memo indicates that the proposed plates would be available to "any person who has served on active duty in the armed forces of the United States. The term would also include members of the National Guard and Reserves, who are either called to active duty or have twenty or more years of service. The veteran must have been honorably discharged from the armed forces to receive the proposed plates, and a medical discharge or general discharge would be considered an honorable discharge. Upon the death of the holder of veteran plates, the plates would be transferred to the surviving spouse for the spouse's lifetime or until he or she remarries."
Statistics used by the chief financial officer to project the proposed plate's four-year (fiscal 2010-2013) revenue stream indicate that at the time close to 45,000 civilian veterans resided within the District, and that the car ownership rate among D.C. households was 63%. It was therefore estimated that 28,350 veterans owned cars. "Assuming a 1.5 percent take up rate for the Veterans License Plates, there would be 420 applications and annual renewals," he wrote. First-year revenue was therefore estimated at $32,760 (420 sets of plates sold, each generating $78 in fees), whereas during the following three years the renewal surcharge would generate $10,920 annually. The corresponding expense would be $5,785 in the first year: $2,785 to manufacture the 420 sets of plates plus "a fixed computer programming cost of $3,000 for a new type of specialty plate."
Purple Heart Recipient
When Purple Heart Recipient plates were introduced is unknown, but characteristics of the only example observed and photographed, no. PH-0002, suggest that it was manufactured during August or September 2002.
---
Organizational Plate Program
Our discussion of the District of Columbia DMV's organizational license plate program has been moved to a dedicated page. Please click here to get there.
---
This page last updated on December 31, 2017

copyright 2006-2018 Eastern Seaboard Press

Information and images on this Web site may not be copied or reproduced

in any manner without consent of the owner.

For information, send an e-mail to

admin@DCplates.net