D.C. Auto License Plates Since April 1997
The collection of plates pictured on this and associated pages is comprised of a single example of every two-letter series used on general-issue and optional passenger car plates since the AB-1234 format was adopted in April 1997. Issuance months noted are approximate. C-series plates are shown below and plates of other series may be found on separate pages using these links:
---
What visit to Greene County, Ohio, would be complete without a stop at the Golden Jersey Inn at Young's Jersey Dairy just northeast of Yellow Springs? During his visit, J. Reid Williamson spotted a Chevrolet registered with C-series plates that likely were issued in spring 2006.
---
C-Series Plates: June 2004-March 2008
The C series appears to have been issued for about 45 months. In stark contrast to the B series, this is (so far) the only series during which no changes were made to the appearance of auto plates issued since April 1997. The CI, CO, and CQ series were skipped presumably due to the similarity of I, O, and Q with other registration number characters. The CL series was also skipped, probably either because it might be misinterpreted as a commercial series or because in the DMV's database it would be confused with Clergy registrations because CL is the type code for Clergy.
| | | |
| --- | --- | --- |
| | | |
| CA - issued June-Aug. 2004 | CB - issued Aug., Sept. 2004 | CC - issued Sept.-Dec. 2004 |
| | | |
| | | |
| CD - issued Dec. 2004-Feb. 2005 | CE - issued Feb.-April 2005 | CF - issued April-June 2005 |
CG - issued June-Aug. 2005

CH - issued Aug.-Oct. 2005

CJ - issued Oct.-Dec. 2005

CK - issued Dec. 2005-Mar. 2006

CM - issued Mar.-May 2006

CN - issued May-July 2006

CP - issued July-Sept. 2006

CR - issued Sept.-Nov. 2006

CS - issued Nov. 2006-Jan. 2007

CT - issued Jan.-Mar. 2007

CU - issued Mar.-May 2007

CV - issued May-July 2007

CW - issued July-Sept. 2007

CX - issued Sept., Oct. 2007

CY - issued Oct.-Dec. 2007

CZ - issued Dec. 2007-Mar. 2008
---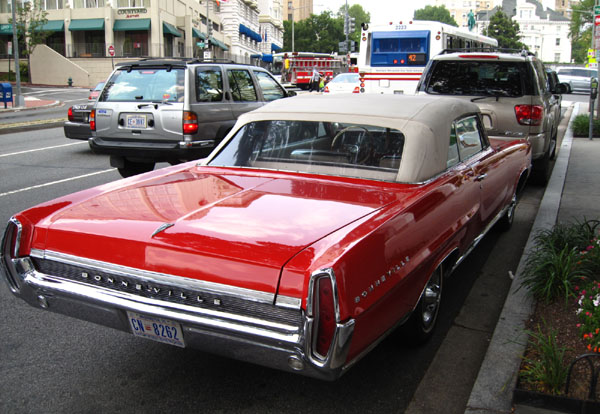 Look closely and you'll see two C-series auto plates in this Connecticut Ave. NW scene, not just one. In addition to the mid-2005 CN-series plate on the 1964 Pontiac Bonneville convertible, the Nissan Pathfinder stopped at the traffic light at Leroy Pl. NW has a CE-series plate issued in about March 2005.
---
J. Reid Williamson captured this nice winter scene at the Tidal Basin in mid-February 2007. The CC-series plates were likely issued in September 2005.
---
This page last updated on December 31, 2017

copyright 2006-2018 Eastern Seaboard Press

Information and images on this Web site may not be copied or reproduced

in any manner without consent of the owner.

For information, send an e-mail to

admin@DCplates.net